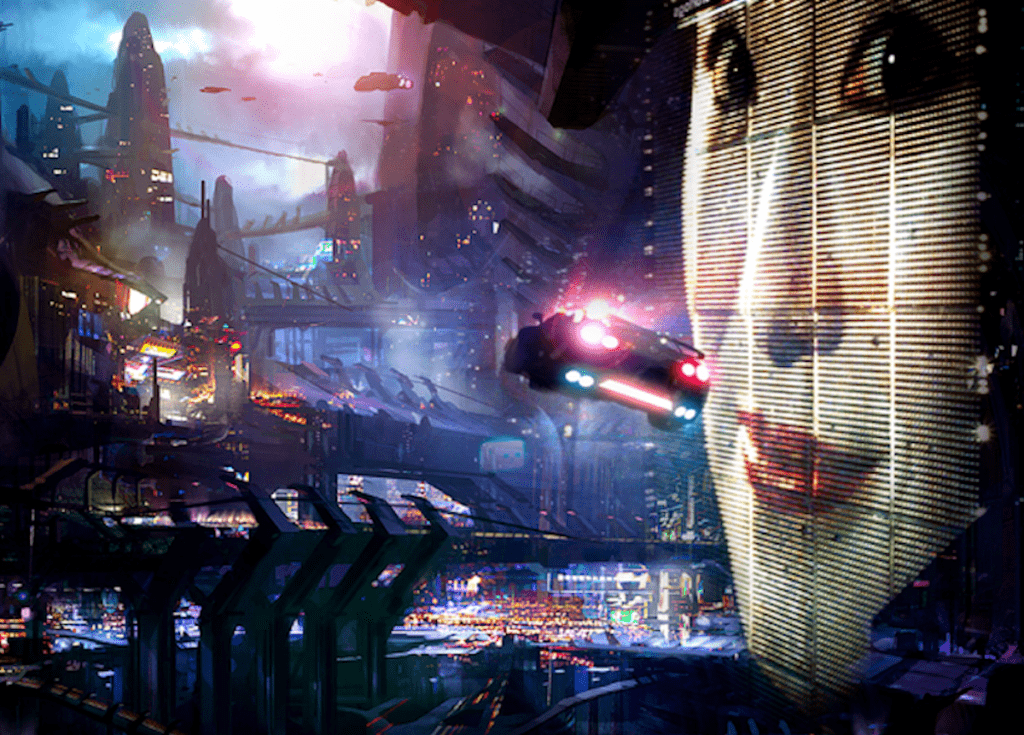 12 Feb

How Marketing Will (and Won't) Change: 2019 Trends
We've trawled through hundreds of blogs, assessing the marketing trends for 2019. And, naturally, we have a few thoughts of our own to add. So, what's hot … and what's not? Read on, and get your marketing and sales sizzling.
Written by Daniela Cavalletti
9 min read
I'm feeling a tad nostalgic as I write this, at the beginning of a new year.
In 1982, as a teenager (and a bit of a movie nerd), I was obsessed with the much-misunderstood-turned-cult-classic Blade Runner. Set in (you guessed it) 2019, it certainly got a few predictions of what the future 37-years-on might look like wrong. Personally, I'm feeling relived about artistic licence applied and no renegade replicants roaming the streets now.
It did predict us using verbal commands to work with computers, for example, though. And it imagined large video advertising billboards – like the ones you now see in places like New York's Times Square, Tokyo's Shibuya Crossing, and many more.
What was thrillingly outrageous in 1982 is commonplace now. Simply part of our daily lives.
Putting androids and flying cars aside for a moment, what else then may we expect in 2019; for marketing and communications?
How will sharing and learning about new concepts, ideas and products change this year?
2019 Marketing Trends that Lead the Pack
Amongst all the pithy words that have been written about this year's marketing comms trends, there is a message that is coming through loud and clear across the board: consumers hate being obviously marketed to. Instead, they want to be valued and understood.
We need to engage with our clients in ways that add relevance and enrichment to their lives.
Either by amusing, moving, or educating them – or in some other way that shows truthfulness, understanding and connection. The tone, medium and message of your content create the heart and soul of your marketing plan.
In 2019, you need to respect and woo your audience – and do it in diverse and surprising ways.
Trend #1: Did someone say video?
Video, it's still hot in 2019, and its impact is only getting more powerful. Video is – by far – the trend that keeps the marketing community most abuzz with excitement.
It's predicted that over 80% of internet traffic will be video by 2021. The simple fact is: people love visual content, so the more videos the merrier. It's an effective and enjoyable way to consume messages. And this preference for visual content is only going to increase thanks to our attachment to and reliance on our smartphones.
To be successful, your video content needs to be honest and engaging. The beauty for small to medium-sized enterprises is that you don't have to have the creative flair of Baz Luhrmann (or the bank account of the Super Bowl advertisements) to make it work for you.
A Q&A session via Facebook Live is an easy first foray into the marketing video world. Or a simple series of tips and tricks from you, the expert, simply scripted and spoken straight to your smartphones camera an uploaded to your website, then shared on social media.
Et voilà!

Trend #2: Everyone's chatting about chatbots
Moving from novelty to norm, chat robots (or chatbots) have increasingly taken over the customer service role of answering queries quickly, allowing customers and staff alike to get on with other important stuff. They can also take on lead generation or sales tasks.
Research shows that the global chatbots market is growing each year by 24% – and 45% of customers actually prefer using them for their customer service needs. Because with technology improving rapidly, they are fast and efficient, getting your customers the answers they seek, and quickly.
Increasingly, customers across industries and company sizes want more conversational interfaces that mimic natural human-to-human interaction well. Using Facebook Messenger bots is just one example of how even small to medium businesses can get on board with this trend.
How could your business utilise a chatbot to grow your brand?

Trend #3: Listen up
Voice search – whether for Siri, Alexa or in a Google Voice Search – is increasingly the thing to do (hello Blade Runner!). And it makes sense. It's quicker, easier and allows time-poor us to multi-task, hands-free like never before.
Media measurement agency comScore has estimated that by 2020, 50% of all search queries on the internet will be done via voice. That's a lot, and it cannot be ignored.
So, it's time to look into optimising your business website to enable easy voice search. That means tagging your images, video and other pieces of content appropriately with meta descriptions and alt-text.
Another important point is this: people speak in full sentences when they do a voice search, whereas typed search-queries tend to be a string of random words.
To keep up with the rise in voice search popularity, your written content will now need to be created in a similar format and flow.

Trend #4: Influence me
Personally, I'm a bit over the hype created around "influencers". Their often-sudden ascent out of nowhere to "celebrity" or leader status, an elevation to spokesperson, that is not always merited, but often just a lot of hype. Nevertheless. Research by the World Federation of Advertisers (WFA) revealed that 65% of brands still plan on increasing spend on influencer marketing in 2019.
Yet thankfully, credibility, reputation and quality of their followers are increasingly at the top of their selection list when companies decide whom to work with. There's no point in spending big bucks if customers don't trust the social media influencer to be their best transparent, authentic selves.
This year, we should see the rise of the micro-influencer – those with 10,000 social media followers or less who are seen as more approachable and relatable. People more like you and me, rather than the likes of Kim Kardashian.
This a great opportunity for smaller businesses to recruit passionate influencers who have a real connection to a cause, region, or group of people rather than simply a product or service. They can engage their audiences through influencers sharing live feeds, product reviews, or behind the scenes shots on social platforms like Instagram and Facebook, to name just a few ways.
Who is both well-known and aligned with your values and views? Reach out to them; the worst that could happen is that they say no.
Trend #5: The rise of Instagram
There seems to be no end to Instagram's popularity. The introduction of Instagram Stories for example has prompted even more audience interactivity and gratification through features such as instant polls, 'Ask Me' and 'Swipe-Up' features.
Instagram is especially popular by those aged 18–25. This demographic may not have top purchasing power just yet, … but they will certainly lead the charge in coming years. For businesses, opportunity awaits – for those willing to creatively use this platform to promote their brand and offering.
Creativity, standing out is the key here.
It's easy to dismiss a simple egg rising to Instagram fame (yes, an egg) as silly. But with currently over 52 million likes of the original post plus more than 10 million people following @world_record_egg this simple idea certainly got the eyeballs.
And marketing is all about having, and holding, your audience's attention.

The 2019 Marketing Predictions I Like the Most
While the above trends are the most talked about marketing predictions, there are others still flying a little more under the radar, which I find rather intriguing and appealing.
According to a UK creative agency, 2019 may just be the year that people 'close their eyes and listen', with the power of sound used as a trigger to 'evoke powerful memories and emotional responses that can elevate a brand campaign into something truly beautiful'.
In other words: we've been missing out on the power of using sound being placed at the centre of brand campaigns, rather than being an afterthought. If the rise of podcasts is anything to go by, these guys are on to something.
We tend to spend more and more of our days online, staring at one screen or another. Many people are feeling further and further away from nature, and crave to reconnect. Today, stock photo library searches are revealing that creatives increasingly use the natural world as inspiration and messaging enforcement. In terms of visuals, expect to see 'aspirational images with natural elements and celebrations of physical, emotional, and spiritual wellness'.
So, yoga poses on top of a mountain are still very much in. But I'm hopeful that we can and will move to a broader spectrum of connecting and appreciating nature in images.
My 2019 Prediction: Books Are on the Up and Up
While we have seen a steady growth of self-published books as marketing tools, I've seen an interesting trend with our author clients over the past months. And it's only getting stronger.
We've had more and more authors approach us for ghostwriting and editing of books not necessarily directly and obviously related to their business, Instead, they focus more on a subject that is a personal passion or concern. Our authors feel a powerful drive to write based on their particular belief system, values, experience, history, and interest.
They have something to say that is worthwhile to share with the world. These are business people driven by an authentic wish to contribute to change, education, and a service to others.
For them publishing a book is not simply a useful marketing idea. It may be related to an issue in their wider business industry and how they believe something could be changed for the better.
These are ordinary people on a mission to make the world a better place in some way, by offering readers practical, impactful advice, and sharing insights or a new point of view on a familiar subject.
And the pure beauty of this type of writing is that the author's enthusiasm, authenticity, and energy shine through – and make these books very powerful.
A book of this type is a perfect platform to spread the message about your vision and mission – rather than simply showcase your skills or offering. And who knows what exciting things may happen from there …

How will 2019's Marketing Trends Affect Your Business?
Take a close look at this diverse mix of marketing trends and predictions.
Then ask yourself: of all that you should consider when planning your communications strategy for the year – which are the low hanging fruit? What can you easily and effectively implement to keep your marketing content a cut above and sales a step ahead of your competitors'?
Whichever approach works for your business, remember to focus on storytelling, honesty and authenticity. No matter what medium or platform you choose.
And you'll be on the right track to make this a bonza year for your business.
As for the Blade Runner sequel, and its predictions for life in 2049?
Well, ask me again, in about 30 years.