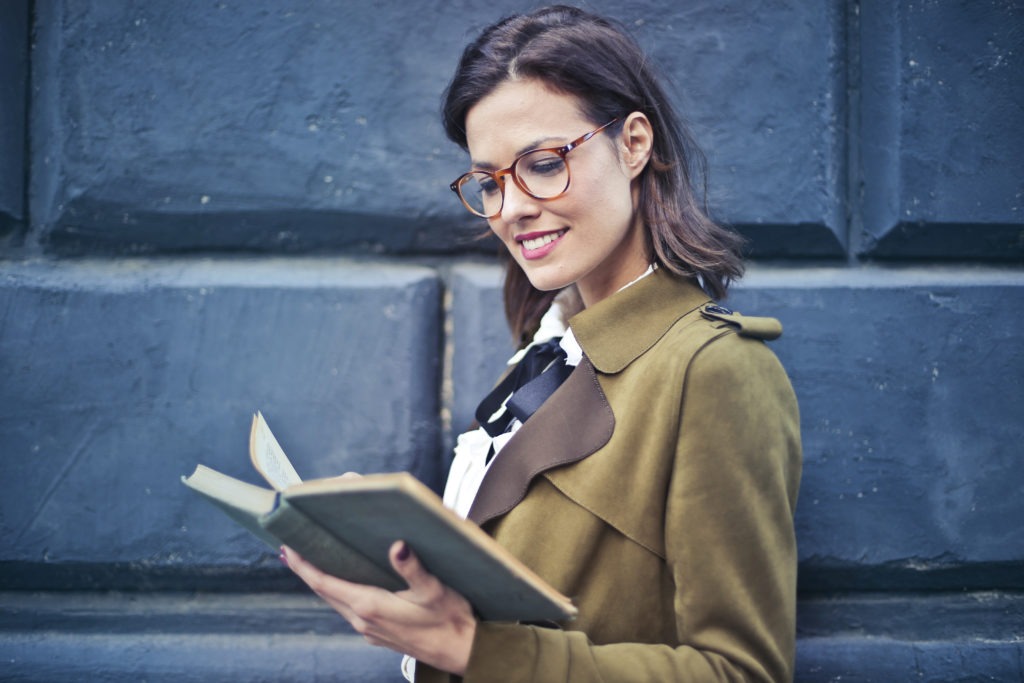 07 Mar

How to Write Your Business Book – A Practical Guide
Writing a business book seems a big project. And, yes, it is an exciting big journey. Chunk it down – and you will sail through the process to your finished book.
Written by Daniela Cavalletti
13 min read
Books boost business; that's a fact. Having a published book to your name can catapult you into the role of industry thought-leader and lead to many new sales and marketing opportunities.
You might already have thought that you really want to write a business book one day. Or you read a book in your area of expertise and thought" "Damn it – I could have written that … and better!" when it was lacking some information. Missing ideas and facts you could share.
And you know you can do it; you know your stuff. Nobody has the same intellectual property, reasoning, experience and approach as you.
How to Write Like a Pro
But where to start? … If you have been thinking about writing a business book for a while but don't know where to begin, you've come to the right place.
Let's go!
A. The Prep: Plan Your Book
Rome wasn't built in a day … nor without a plan. Before you jump into the actual writing, you need to do some thinking, sleuthing and setting yourself up for the writing phase.
#1.  Write a Book Pitch
Before you launch into writing, doing an outline of your book and its purpose is an absolute must. It'll give you a clear roadmap to follow and ensure you keep to the chosen path.
Elements of this plan can change and evolve as you write – but you must have an initial plan together to stay on track.
Essentially, imagine a document that pitches your business book idea – and why anyone should care to read this book – to your prospective buyer. After getting everything outlined in your 'book pitch' you'll brim with eagerness to start, and are ready to write with clarity and focus.
Check out our handy book pitching document to get you started.
#2. Stay Focused
Once you have worked out your unique point of difference and goals, keep these top-of-mind when you write.
It's useful to start carrying a notebook with you or write notes on your phone to capture any aha moments and brilliant ideas for your business book that you may have at this early stage.
When you are in the middle of writing jotting new ideas down somewhere without interrupting your flow of writing the manuscript will save you from going on tangents, into thought-loops … and possibly a bit bonkers.
#3. Pick Useful Writing Tools
Being organised is half the battle. A manuscript is a big document, full of many ideas. Have dictionaries and thesauri like Macquarie and Merriam Webster as pinned tabs for easy access. Grammarly is also useful for punctuation and English usage advice.
There is an array of tools to help with organising, productivity and brainstorming – it all depends on the approach you want to take and what helps you keep on track.
Do pick your editor's brain for their favourite tools, too. It's their geeky passion to know these things and to guide you.
#4. Check out the Competition
It may seem that there's no such thing as an original idea – but yours is a unique life, experience, skill and personality. So there's still space for another view and book on any given topic.
Have a look around online bookstores and skim previews in Amazon. Borrow books from the library and make sure your content is largely original compared to what's out there.
Most importantly, try to make it superior to what's already on the market. Of course, give credit where credit is due – it enhances your credibility and prevents copyright issues to list your sources/ references for other's intellectual property and statistics.
B. Start Writing
Ok, now we're getting down to the nitty-gritty. Time to go head down, bum up and get into the writing groove. Here's what you need to do:
#5. Head into the Cave
Write in the same place every time. Your writing cave should be somewhere where you feel comfortable, is reserved for writing and is distraction-free.
Disconnect from the internet, emails and phone.
Put some effort into ensuring that your chair, desk and computer/laptop are ergonomically set-up − your shoulders and neck will thank you for it.
You might work better with some background music or earplugs. The choice is yours; just ensure you can be utterly relaxed, undisturbed and in the zone.
#6. Set the Length of Your Book
How much should you write? To end up with a printed business book that's looking impressive (rather than like a thin pamphlet) you want to end up with at least 30,000 words in the final document.
Some of your first drafts will end up on the cutting room floor. So you should be up to at least 40,000 words in your pre-edit draft.
Depending on how you like to work, your deadline and what hours you are dedicating to the task, you need to set-up a calendar schedule of how many words you must write each day/week.
It works a treat to have a writing-coach or -buddy who holds you accountable to these deadlines. Yup, guilt does work!
#7. Shape Your Chapters
Your chapters need to be easy to follow, and consistency in format from chapter to chapter is an important part of that. Do spend some time checking in after you've written a few chapters to see what natural structure has developed.
Are you consistent? Are there elements that could make reading and learning easier for your reader?
Remember: do keep all chapters and sections of your book in the same structure, more or less, for ease of reading and understanding.
Here are a few bits and bobs you might want to consider to bring your chapter format into ship-shape:
Case studies
Illustrations
Pull out boxes for tips or quotes
Action points
Chapter summary
Quotes at the start of each chapter
#8. Kudos, Credibility + More
You may want to include a dedication, acknowledgement / thank you, foreword by a known leader or authority in your field, or testimonials.
Start collating them early in the writing process so you can incorporate as you go.
For a full list of things you might want to include in your business book, run through our front and back matter checklist.
#9. Just Write
There may be times when you don't feel like writing – the dreaded writer's block is par for the course.
Just brain-dump − don't overthink it.
Start writing what you want to say using your natural voice. Don't try and emulate someone else – your readers will want to hear from you. Plus, they expect for you to sound the same in writing as in direct interactions (don't and you'll leave them confused and unsure of your authenticity).
There will be time during the editing process to polish any word-rocks into diamonds, so don't try to make it perfect or self-edit too much as you write. It's more important that you convey your unique ideas and knowledge, and let your editor finesse your writing for you.
It is your editor's job to make you sound good so don't stress too much about delivering prose worthy of a Pulitzer Prize. You should of course read the previous chapter to get you back into flow and the same tone – just don't be overly critical of yourself.
Resist too much self-editing and going back over more than the last 1,000 words of your previous writing.
Get the first rough draft written – only then it's time to cull, change and add.
#10. Beyond the Words
Is there something in your message that can be broken down into a visual representation, such as steps presented as a graphic or diagrams?
Think about charts, graphs, illustrations and photos you may also be able to use to help break up copy and skilfully convey your important message.
C. You're on the Home Stretch!
Now the hardest and most challenging part is behind you. You've put your expertise down 'on paper'; structured and complete.
But once you have finished writing your manuscript you haven't finished publishing your book yet.
Now it's time to wrap up the writing, tie up some loose ends – and head into the editing, marketing, production and distribution stages with your editor, proofreader, typesetter, printer, etc.
#11. Let Go
Elements from the book's title to the central theme may have changed dramatically as you near the end. Chapter 3 may have become chapter 5, and some of your original key points have started sounding less pivotal in print. That's normal, so be okay with it.  Resist the urge to keep and keep adding and changing your manuscript: you may do more harm than good.
It's common for authors to find it hard to stop writing and let go of their book. But there comes a point where you will no longer be able to add anything fresh.
Don't be overly critical of yourself. This a draft you're creating, not the final piece. Polishing your draft is your editor's job. They will find any remaining holes or wobbles and help you fix them; don't worry.
#12. Tidy Up + Chase
You've handed your manuscript to your editor and can start thinking about the next exciting stages of creating your published book. Production, distribution, and marketing.
Now it's time to plan sending out your draft to those reviewers,  and chase forewords you were promised.
Are you waiting on any permissions to reproduce images or quotes?
Draft your book's 'back blurb' (or get your editor to write it for you) and send it to your cover designer.
Has that website designer come back to you for the marketing landing page you need for your book?

Do you want to have a launch party?
Your editor and publishing support team will help you with a checklist for this stage, and ensure everything will happen.
#13. Edit Your Book
Ideally, you will be working with a professional editor who will be guiding you and advising you along the way. Your editor will polish the structure, flow, tone of your book, and help you fill any gaps. As a professional, they will ensure that your book is fulfilling the goal you set for it and that it does you proud.
Before handing your manuscript to your editor, you can run your draft manuscript by someone whose judgement you admire and respect. But ensure that it is a professional colleague, mentor or friend who understands your topic, target audience and purpose for writing your business book.
Don't fall into the trap of running your work by someone who isn't qualified to judge your work (like your Auntie or best mate) – it might lead to self-doubt and possibly turning your work into the wrong direction.
#14. Marketing + Distribution
While your publishing team is working on the finals ouches of your book, you can launch yourself fully into its marketing.
Ideally, you have planned your marketing strategy early, and now you can let loose.
Depending on whether you chose self-publishing or a traditional avenue, the bulk of your marketing is taken care off or needs you to drive it.
It Takes a Village to Raise A Book
Some say that writing a book is a lonely process, but it really doesn't have to be.
You and your book should be looked after by a team.
There is support available to help you with your research, writing and ideas. An expert editor will become your close confidant and guide, through mentoring and coaching. Throughout the writing process they'll provide practical information, guidance, accountability and structure.
And after your manuscript is finalised, your production and distribution team will take you through the next stages.
Well-organised, your author's journey will be nicely broken up into manageable stretches, accompanied by helping hands and friendly faces (and the odd gallon of coffee and bottle of wine).
Do you want to write a business book?
Just do it!
While you're here:
For more useful writing tips and editing advice, check out our Success Tips for Authors series on YouTube or Facebook. Or hop onto our blog archive to read up on some more book editing and writing insights and tips:
If you are ready to start writing your book and leave your lasting legacy in the business world, we have a team of expert editors at the ready, who'll help chunk down those writing mountains into manageable molehills. Contact us now to become a published author.